Não é necessário estar na frente de uma televisão para curtir seu programa ao vivo favorito. Atualmente, muitos canais oferecem programação em tempo real em aplicativos móveis, facilitando o acesso ao conteúdo de qualquer lugar.
Existem duas maneiras de fazer isso: usando a TV digital (se disponível) ou usando a internet por meio de serviços de streaming ou IPTV. Embora alguns serviços exijam assinatura paga, também existem canais abertos que oferecem acesso gratuito à sua programação. Confira abaixo cinco opções para assistir TV no celular!
1. Globoplay:
O serviço de streaming do Grupo Globo se diferencia dos demais serviços por oferecer um amplo sortimento de filmes, séries e novelas, além de transmissões ao vivo. A plataforma, conhecida como Globoplay, apresenta gratuitamente as transmissões ao vivo do Futura e da TV Globo para os perfis cadastrados em suas respectivas regiões.
Com o plano de assinatura paga do Globoplay, o usuário pode acessar os 19 canais fechados da empresa no plano Globoplay + Canais Globo, ao preço de R$ 42,90.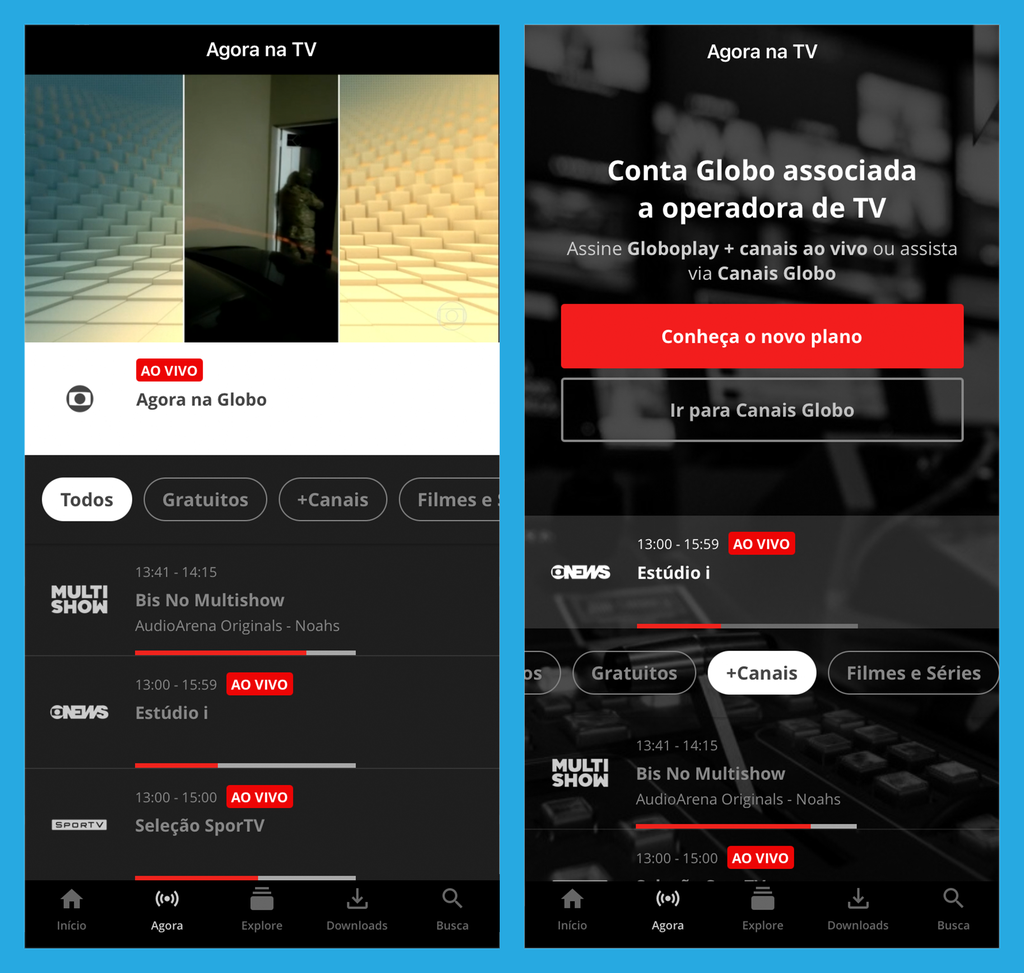 Além disso, a plataforma também oferece planos separados com canais como Premiere e Combate, transmitindo eventos esportivos ao vivo. O serviço oferece suporte à reprodução simultânea em até 5 dispositivos diferentes.
Durante a transmissão pelo aplicativo, os usuários podem transmiti-lo para Smart TVs ou outros dispositivos como Chromecast e Fire Stick TV. O serviço de streaming também permite que seus assinantes pagos baixem episódios sob demanda e revisitem programas de TV anteriores.
Compatibilidade: Android, iOS
Preço: instalação gratuita com opções de assinatura (a partir de US$ 19,90 por mês)
2. DirecTV GO:
DirecTV GO é um serviço de IPTV que oferece um plano básico com mais de 70 canais. Os usuários podem acessar o serviço pela internet e alternar rapidamente entre os canais ao vivo ou verificar o conteúdo sob demanda. Um dos diferenciais desse serviço é a possibilidade de escolher pacotes à la carte e opções adicionais.
Por exemplo, os usuários podem optar por serviços adicionais, como o serviço de streaming HBO Max ou Premiere, que transmite jogos de futebol brasileiro ao vivo. O plano básico tem preço de R$ 59,90 por mês, ou R$ 599,90 na versão anual, e permite conexão simultânea em até duas telas diferentes.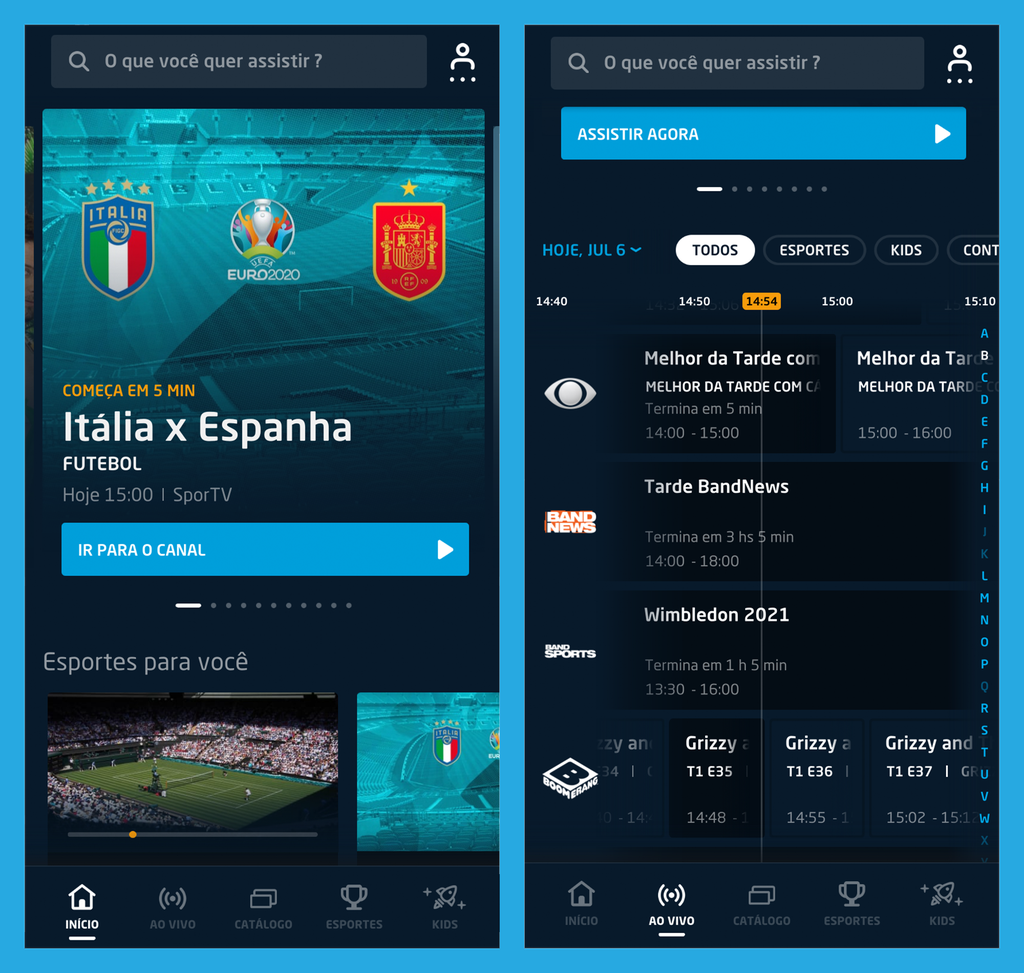 O DirecTV GO é compatível com vários dispositivos, incluindo Smart TVs, Android TV, Apple TV, Fire Stick, Roku e navegadores da web. O aplicativo também permite que os usuários espelhem a transmissão para outros dispositivos compatíveis.
Compatibilidade: Android, iOS
Preço: instalação gratuita com assinatura necessária (a partir de $ 59,90 por mês)
3. Guigo TV:
Guigo TV stands as an exceptional IPTV service that bestows its users the convenience of accessing it on internet-connected devices. The mobile application of this service provides a vast array of on-demand soap operas to choose from and facilitates checking the schedule of live programs, which span over 42 channels under the basic plan, inclusive of supplementary services.
By subscribing to the basic plan, which demands a monthly remuneration of BRL 20.90, one can avail simultaneous transmission on five devices, with the liberty to connect up to eight devices.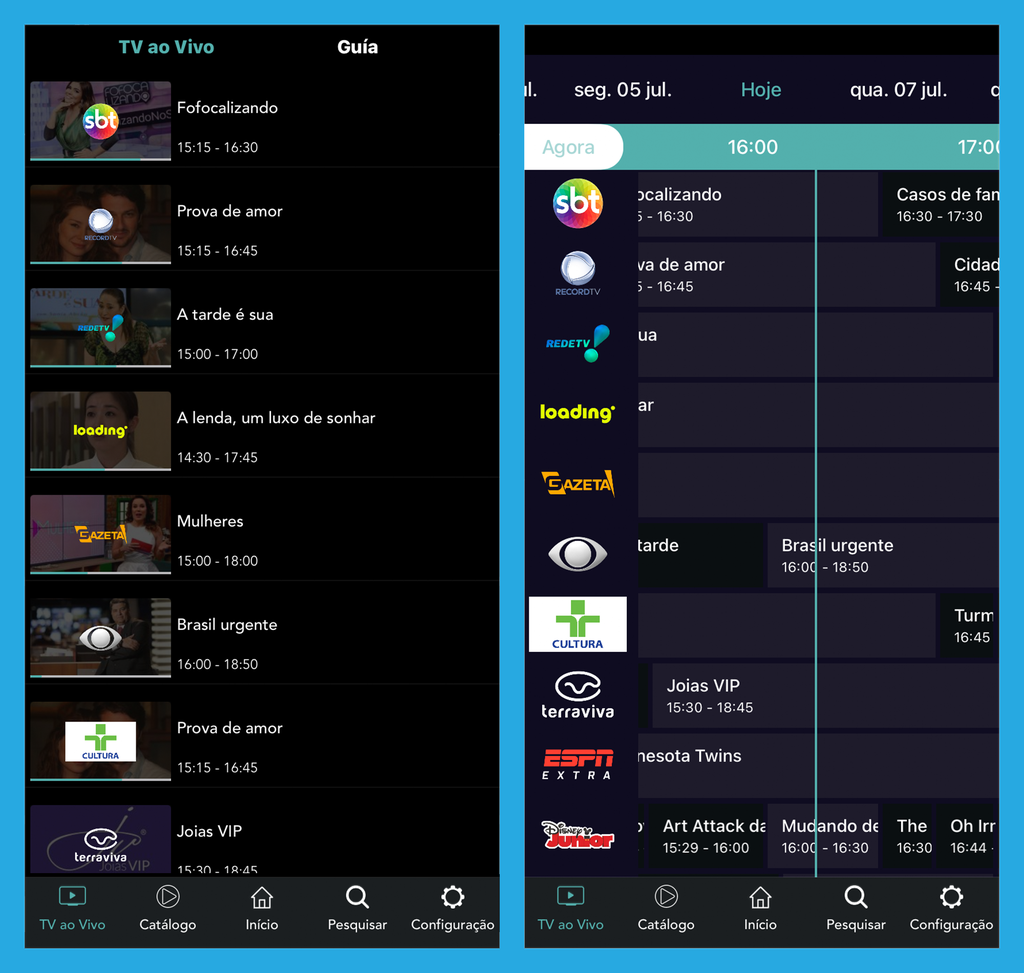 Two screens can effortlessly stream the same channel simultaneously. Moreover, Guigo TV extends its reach to other domains, catering to an array of interests. These interests span over sports, children's content, soap operas, and a family plan.
Guigo TV is not just limited to cell phones; it can also be accessed on a plethora of other devices, which includes browsers, Amazon Fire TV, Android TV, Smart TVs, and Xbox One.
Price: Free installation with subscription required (from $20.90 per month)
4. TV digital:
Muitos dispositivos Android vêm com um aplicativo de TV digital integrado que pode funcionar sem uma conexão com a Internet. Para utilizá-lo, basta conectar uma antena através da entrada de fone de ouvido.
Essa antena geralmente vem inclusa na caixa do aparelho, mas fones de ouvido também podem servir como substituto.
Com o celular e o aplicativo TV Digital, você pode assistir canais de TV que transmitem sinal digital (Imagem: André Magalhães/Captura de tela). Ao se conectar ao aplicativo pela primeira vez, você pode procurar canais usando um processo semelhante ao de um aparelho de TV tradicional.
Desta forma, todos os canais abertos disponíveis com sinais digitais serão disponibilizados, e algumas emissoras exibirão suas programações diárias.
Além disso, o aplicativo oferece vários recursos para gerenciar a reprodução do programa ao vivo. Você pode salvar seus canais favoritos e gravar trechos de shows ao vivo, que ficarão armazenados em uma biblioteca interna.
Compatibilidade: Android
Preço: gratuito
5. Vídeos do SBT:
O canal do SBT pode ser transmitido ao vivo no aplicativo, e a transmissão é feita de acordo com a região do usuário por meio da localização do celular. O cadastro gratuito dá acesso ao conteúdo da emissora.
A plataforma também oferece conteúdo sob demanda, incluindo séries, novelas e programas veiculados pela emissora. Perfis podem ser criados, semelhantes aos serviços de streaming, para facilitar o rastreamento de programas favoritos e o andamento dos episódios.
A reprodução pelo aplicativo vem com uma infinidade de funções para controlar a reprodução, como o modo picture-in-picture do celular e a possibilidade de transmitir o conteúdo em outros dispositivos. O aplicativo contém anúncios, mas é totalmente gratuito.
Compatibilidade: Android, iOS
Preço: gratuito
6. BandPlay
O BandPlay é um aplicativo que permite a transmissão ao vivo da programação das filiais da Band gratuitamente, atendendo a região informada através da localização do aparelho. A interface do aplicativo facilita a marcação de programas preferidos, criando uma aba dedicada para armazenar o conteúdo visualizado mais recentemente.
Assim como o SBT Vídeos, o aplicativo Band oferece um vasto catálogo sob demanda de reality shows, programas de auditório, podcasts e apresentações ao vivo das rádios do grupo. O aplicativo também inclui uma guia de agendamento e recursos interativos, como enquetes, questionários e pesquisas de opinião.
Compatibilidade: Android, iOS
Preço: gratuito
Durante a reprodução pelo aplicativo, os usuários podem ativar o recurso de legendas automáticas. Além disso, a plataforma suporta a transmissão do conteúdo em outros dispositivos e a ativação do modo picture-in-picture. Compartilhe seus pensamentos em seu canal favorito comentando!